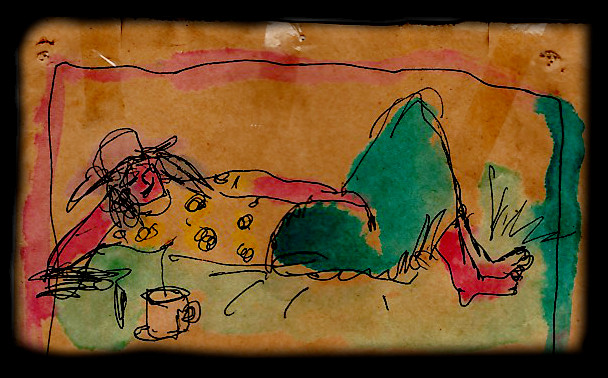 Born in New Jersey, Karen Savoca's baby diary reads, "20 months, knows six songs." At the age of five, she was the emcee of her kindergarten play. Her mom had been a big-band singer, and the featured vocalist on a nightly TV show in Fresno, CA. She wasn't at all surprised to find her little girl constantly dancing and singing around the house. At the age of ten, Karen bought her first album... it was Life, by Sly and The Family Stone.
Although she dreamed of playing the drums, she was given piano lessons at the age of nine. At thirteen, the family moved to rural upstate New York, where her new friends were astonished by her ability to learn the lyrics to any song in just one listening. At fifteen, she bought herself a guitar with saved birthday money, and started writing songs. During her High School days, she was a frequent soloist in choir, and earned leading roles in both dramatic and musical plays. Her expressive alto was soon sought out by regional musicians, and she became a local coffeehouse favorite.
Knowing that she wanted to pursue a musical career, she attended Syracuse University's Crouse College of Music. At the time, the school offered only classical studies, and as someone who had already found her own true voice, the operatic training was far too restrictive. After two years as a music major, she transferred to Elementary Ed, where she developed passionate views about early education. She joined a working band, and remained in Syracuse after graduating.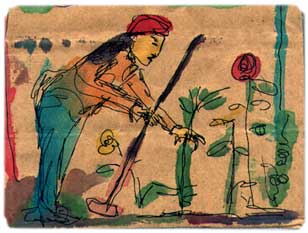 Syracuse native, Pete Heitzman, adhered to the guitar at the age of 13, and became adept at many styles. After college, he toured for several years playing in pop, rock and country bands. On a visit home, he went out to a club to hear an old friend's band, and Karen was their new singer. Pete jammed with them all night, and they asked him to join. Powerful chemistry from the start, the two have been together ever since.
Soon after they met, Karen and Pete moved to New York City where they gigged, worked strange temp jobs, wrote songs, and accumulated recording gear. In the mid '80s, they returned to central New York where they converted an 1890's church into a recording studio, and founded Alcove Records.
Karen and Pete formed The Mind's Eye, a band which featured a revolving membership of some of the best musicians in the area.The Mind's Eye played soulful, original music and took up residence at a club where they packed the house every Monday night for seven years, becoming a beloved local institution. Their first recording, Walkin' The Bridge (1988) charmed T-Bone Wolk into collaborating with them for On The River Road (1993). The song "Language Of Love" won Grand Prize in MUSICIAN Magazine's Best Unsigned Band Contest in 1995, out of 3,500 entries.
Longing to tour, the duo split off from the band, and developed their unique sound. They have been described as a self-contained mini-band with "the fearlessness of a high-wire act working without a net." An elusive mix... melodic, funky and spontaneous.
In 1997, they signed with a major talent agency and began their travels. Sunday In Nandua (1998) was an artistic milestone, and was added to many radio playlists across the country and abroad.
Karen and Pete met extraordinary musician and songwriter Greg Brown at a festival in 1999, and he asked them to tour with him. They've collaborated on recordings and benefit concerts, and have played hundreds of shows together.
The duo's live performances are uplifting and hypnotic. As the sun was setting at the Vancouver Folk Festival '99, for the first time in 22 year years, 10 thousand people inexplicably removed their shoes and waved them over their heads for what Karen calls, "The Miracle of the Shoes."
In 2002, the duo released ALL MY EXCUSES, featuring backing vocals by Greg Brown, and the phenomenal bass work of T-Bone Wolk.
They also recorded MILK OF THE MOON (Red House 2002), by two-time Grammy nominee, Greg Brown. This critically acclaimed CD was co-produced by Greg, Karen & Pete during a nine day session at their private studio.
The 2002 compilation GOING DRIFTLESS, Women's Tribute to Greg Brown (Red House) included Karen's version of "Two Little Feet." (also w/ Mary Chapin Carpenter, Shawn Colvin, Lucinda Williams, Ani DiFranco, Cheryl Wheeler, Joan Baez, Lucy Kaplansky, Stacey Earle, Eliza Gilkyson, Gillian Welch)
In 2003, Savoca's version of Two Little Feet appeared on the Earth Justice Benefit CD WHERE WE LIVE (Higher Octave/EMI) along with songs by Bob Dylan, Tina Turner, Ruben Blades, Mose Allison, John Hammond (with Tom Waits), Pops Staples (with Ry Cooder), Maria Muldaur (with Bonnie Raitt), Willie Nelson, Norah Jones, The Neville Brothers, Los Lobos and others.
LIVE AT THE BLACK SHEEP (2003) is an unrehearsed, riveting collection of original and traditional songs by the triple-bill of Greg Brown, Garnet Rogers, Karen & Pete
IN THE DIRT (2006) Recorded in a fiery two day session with longtime collaborator "T Bone" Wolk.
PROMISE (2011) Reached #25 on the Euro/Americana chart.
I SHOOK THE TREE (2016)
Karen and Pete have scored several films for writer/director James Savoca, Including Sleepwalk, and The Crooked Corner.
Watercolors By Greg Brown
Alcove Discography
2016 ~ I Shook The Tree
2011 ~ Promise
2006 ~ In The Dirt
2003 ~ Live At The Black Sheep (with Greg Brown & Garnet Rogers)
2002 ~ All My Excuses
1999 ~ Here We Go
1998 ~ Sunday In Nandua
1993 ~ On The River Road
1988 ~ Walkin' The Bridge


Production Credits
2007 ~ Robert Hazard - Troubadour (Rykodisc)
2002 ~ Greg Brown - Milk Of The Moon (Red House)

Feature Film Scores
2005 ~ The Crooked Corner (No Stone Pictures)
2001 ~ Sleepwalk - aired on IFC

Compilations
2003 ~ Where We Live - (Higher Octave)
various with Ry Cooder, Bob Dylan, Bonnie Raitt, Tom Waits
2002 ~ Going Driftless, Women's Tribute to Greg Brown (Red House) various with Mary Chapin, Sean Colvin, Ferron, Lucinda Williams